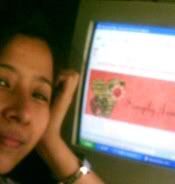 Ahhhh my life as a desktop publisher, graphic artist/designer and a full-time blogger
can be so boring and tiring sometimes. There is always the deadline for designs to be submitted at the store, irritating clients that i encounter all day here at my shop plus i need to blog 2-3 posts here to earn extra $$$. Arrgghhh gimme a break !!

But with all these stress life can bring to me i can still smile bec. getting online and blogging i met new friends esp. joining the

Phil. Digiscrapper Website,

where i get to share my love for digital scrapping with fellow Bebots, i get to sell my digital kits at

Scrapping Garden Store

and i earn extra money while blogging.

With all that i can say i am one tired but happy blogger !!!
Have a great weekend everyone!