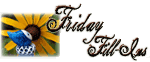 Wow it's Friday once again and time is running so fast!!! Anyway here are some few of my thoughts today.
1. The crickets sing,
I wonder what song is that hehe
.
2.
Dad, we'll always miss you
wherever you are.
3. I want to get far away from the
noisy, dirty, dusty neighborhood
.
4.
Vacationing in Paris and shopping endlessly
; this was a dream.
5. But as for me
I will just do my offline and online work with so much passion
.
6.
A very simple yet loving family is where
I come from.
7. And as for the weekend, tonight I'm looking forward to
watching a good show after reading more about this
motorhome towing
, tomorrow my plans include
going to my net cafe a bit early
and Sunday, I want to
go to the mall
!