It's weekend once again and many of us look forward on this bec. after long week's work we are finally having a break. I thought I'd answer this questions.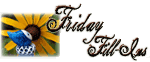 1.

My mom's 76th birthday and more online opportunities

are some of the things I'm most looking forward to in October.
2. Sometimes I

tend to over react over simple matters.
3.

Don't loose hope

and that's why there is a saying, "never say never"!
4. When I'm down, I

just cry and be so emotional

.
5.

In front of my computer

is where you'll find me most often.
6. A rainy day is good for

sipping coffee, watching TV and just lazing around

.
7. And as for the weekend, tonight I'm looking forward

to watch my fave TV shows till wee hours of the night but bef. that I have to finish researching

this auto insurance online, tomorrow my plans include

helping sis-inlaw and other to set up the 18th patry venue of my niece plus I am the doing her make up and hair (goodluck to me)

and Sunday, I want to

go to church!